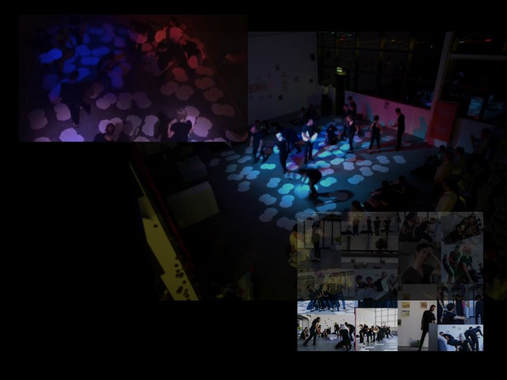 ---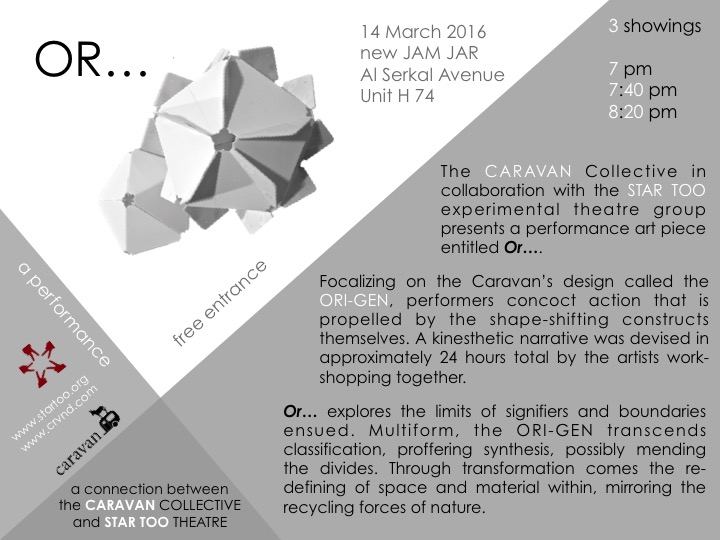 ---
Season 1
WHERE IS HOME
Eyjafjallajökull has erupted, as indicated by a bubble-making machine sprinkling spheres. Passengers of a cloth-mode of transport are grounded on a runway. Audience on either side witness their recount of home, their only baggage a 2X2 yard piece of cloth, masks, some tangerines, one another, and everyone's imagination to recreate the trees, the boats or the street corners for which they long. Sometimes, home is not even a place, but is found in a song, in another's eyes, in memory or self-reflection.


---
---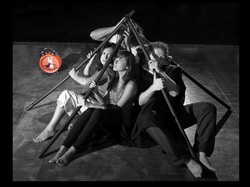 Season 2
WHAT'S THE TIME
A wicked ersatz rabbit systematically sequesters dreamers with bars of foam sticks on a round playing space that is a ticking clock. There is no holding them back from conjuring their wonderland as it is high time for each of them that something must happen to their world.

---
---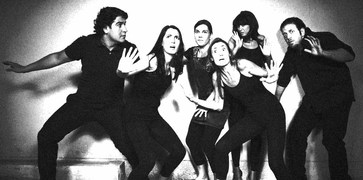 Season 3
WHO DID IT
A cabaret full of performers toiling in a parachute with blame like merit for crimes and praises unknown engage in some silk-dancing and acts using a magician's vanishing table while being questioned by inspector Claude Dumbo sitting with audience at one of the barrels encircling their round carpet.
---
---
Season 4
WHAT ART THOU WEARING

Everyone a Tempest's Caliban haplessly partaking in a fashion show unveils the effect of being defined by the gaze of the other. Audience faces a wall-wide mirror looking at the reflection behind them of Calibans' tales interlaced with Shakespeare's offer on how we might perceive the beastly, the native, the innocent, simply measuring by appearances. Back wall projections toy with the eyes as Calibans un-strike their poses to reflect on questions of judgement.
2011https://youtu.be/uV0M2dVd-BA overview
---
---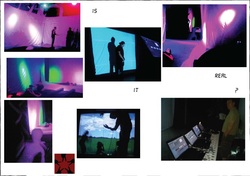 Season 5
IS IT REAL
A giant cloth box hosts the audience immersed in scenes accompanied by projections on all 4 surrounding cloth-walls. A reality show with a twist features contestants who contest ideas of reality itself. Interaction with projections, shadow play and a giant effigy come into the space that is imagined whilst real.
---
---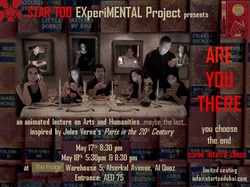 Season 6
ARE YOU THERE
Jules Verne's uncanny predictions may be coming true. A clandestine classroom is set up to examine the possibility that marginalising the poet, art, and music in favour of the practical depletes our chances of being fully here. Verne's Paris in the 20th Century links up with the present via Skype-ed in performances live from Paris during class time.
---
---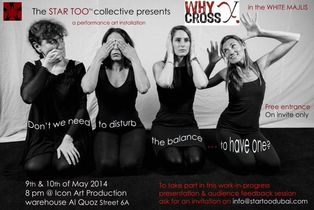 Season 7
WHY CROSS
A giant cloth box now called the white majlis enrobes a question asked on a X-shaped playing space with witnesses seated at each of the 4 corners. Projection-play includes Michelangelo's depiction of an unnamed character found to be a female archetype everyone can become in some way at some junction in life; what we cross when we contradict the status-quo.
---
---
---
Designing the White Majlis (work-in-progress)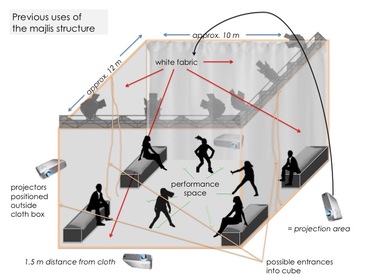 Used in original creations 2012, 2014

- giant cloth box
- cube-playing space
- immersing audience in the action
- 4-sides projections (+ floor)
- actors' interaction with film-elements
---
---
For special corporate events with ACT TOO/ STAR TOO, visit www.acttoodubai.com.
Inquire on: info@staroo.org
Past projects include: