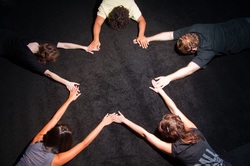 Dubai's first experimental
performance art collective
founded in 2010
---
Original creations are devised by members of the collective, with a physical and minimalistic approach to theatre-making.

To transform the environment, performers use only customized sticks called Artisticks, plain cloth named Its, and a parachute that serves as a shape-shifter when used as a tool for choreography. A giant cloth box called the White Majlis is used to surround the audience, immersing spectators in the action.
​
​Multimedia and video art is prominent, as is interaction with projections.

Commissioned artists at Dubai Culture & Arts Authority Sikka Art Fair in 2013, the STAR TOO collective has signed 8 original creations, participating in over 20 events since its 2010 inception.

​Projects of interest to the group principally revolve around alternative narrative structures, symbolism, and in-situ practices.

​Methods of devising vary according to subject matter that the group finds impactful and socially relevant at the time of creation.​


---